NEW:
We're tracking real-time data to get an indication of how and when countries are locking down, and which Asian countries are getting back up and running.
Story:
ft.com/content/d184fa…
Charts:
1) Road traffic levels are plummeting across Europe, though London is lagging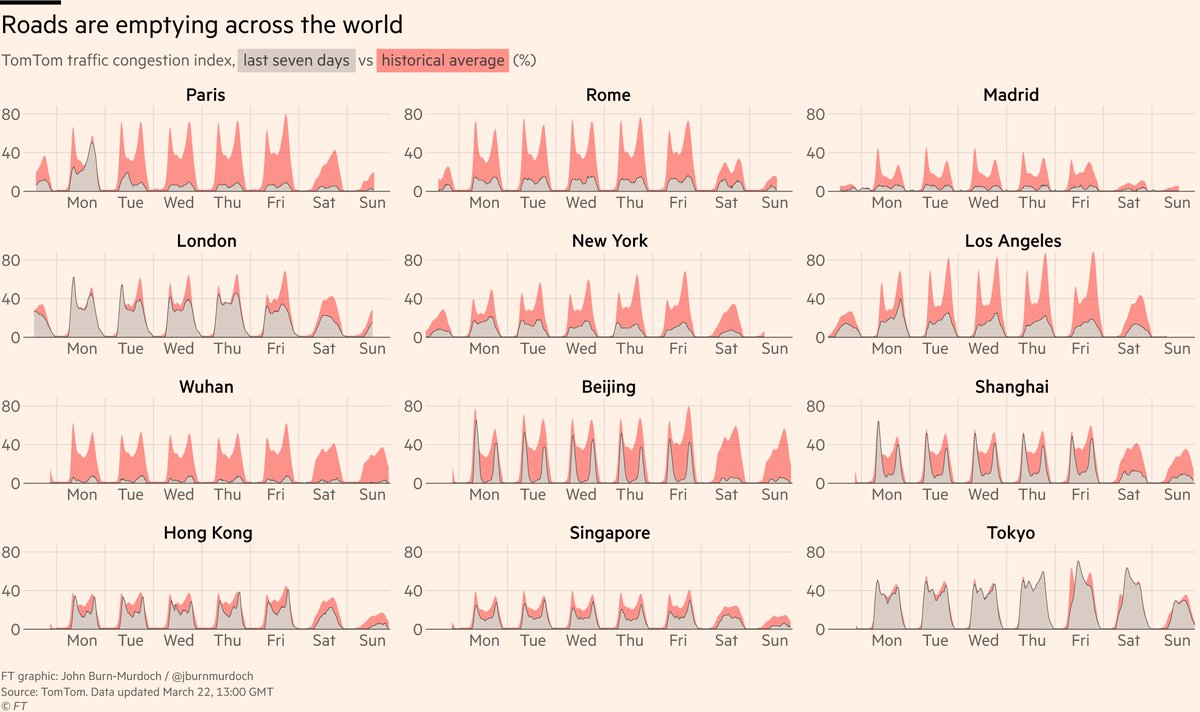 2) You can clearly see when France shuts down. Macron's announcement came Monday eve, and by Tuesday traffic levels in Paris were way down.

Italy and Spain had already shut down by then, with the streets of Rome and Madrid almost silent.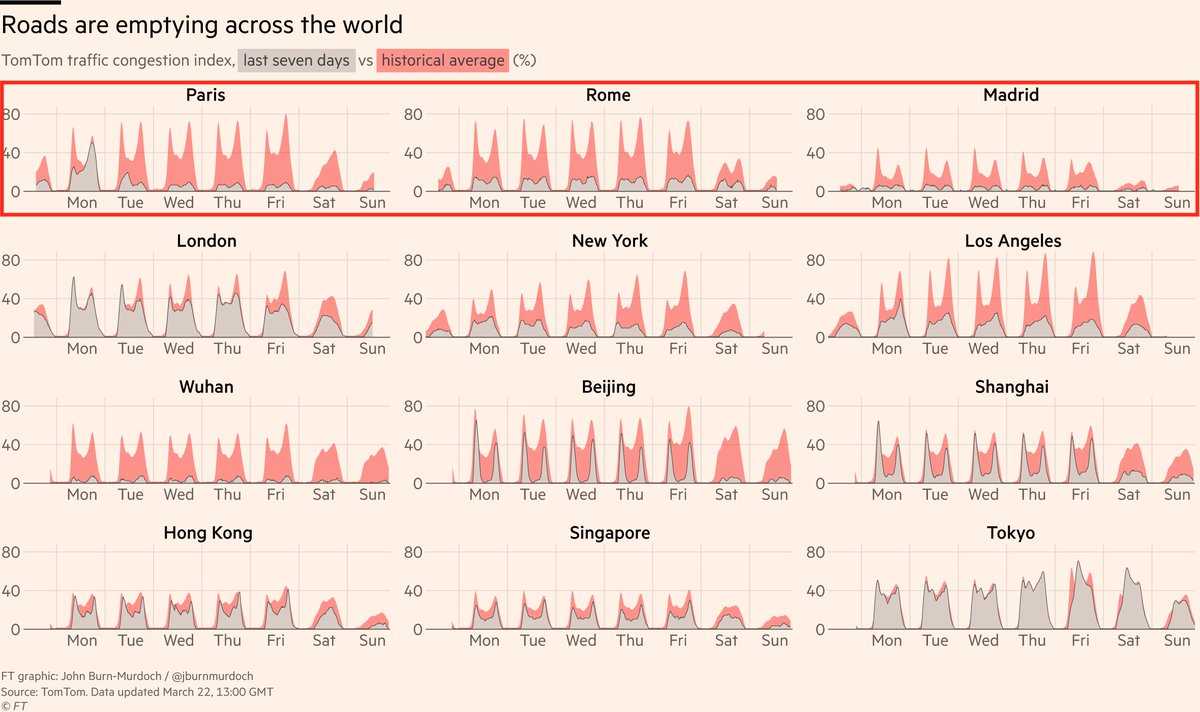 3) London has acted late. It was only Friday evening that traffic dipped even noticeably, and that dip held into yesterday.

Across the Atlantic, New Yorkers have been driving much less all week, and LA's rush-hour jams have vanished.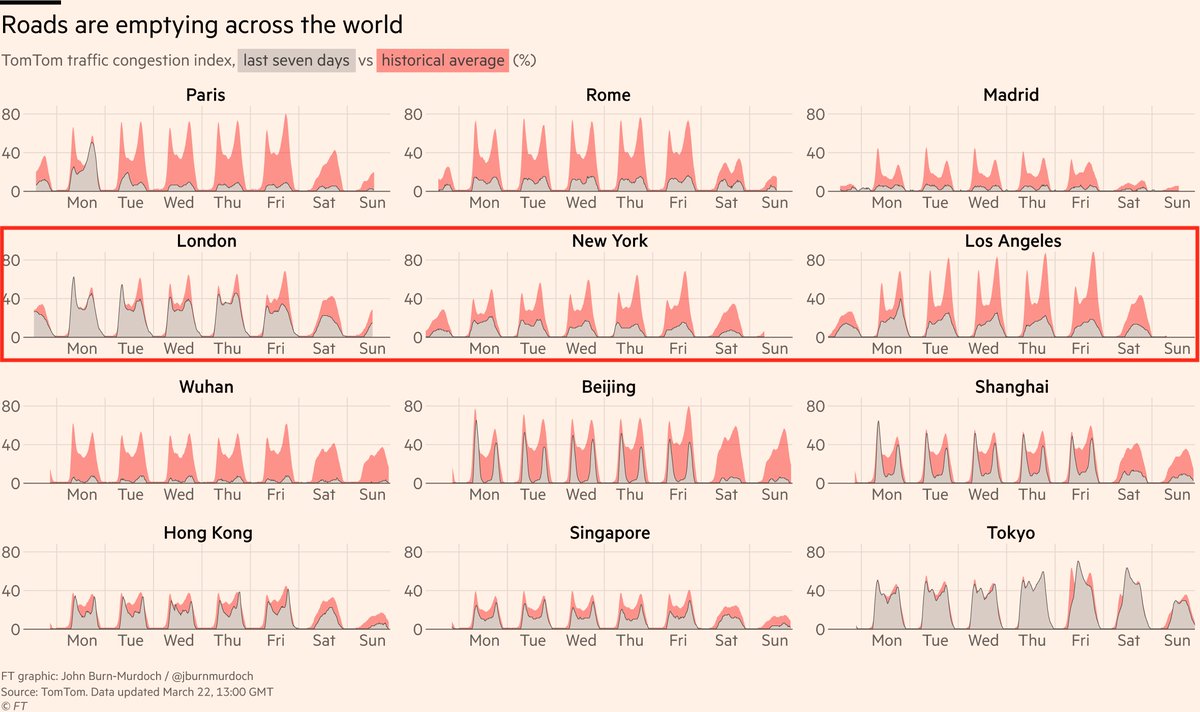 4) Reports that China is "back up and running" are premature.

Wuhan remains heavily locked down. Traffic barely a trickle.

In Beijing & Shanghai, people are going back to work (rush-hour peaks almost normal) but discretionary travel is minimal (midday shortfalls).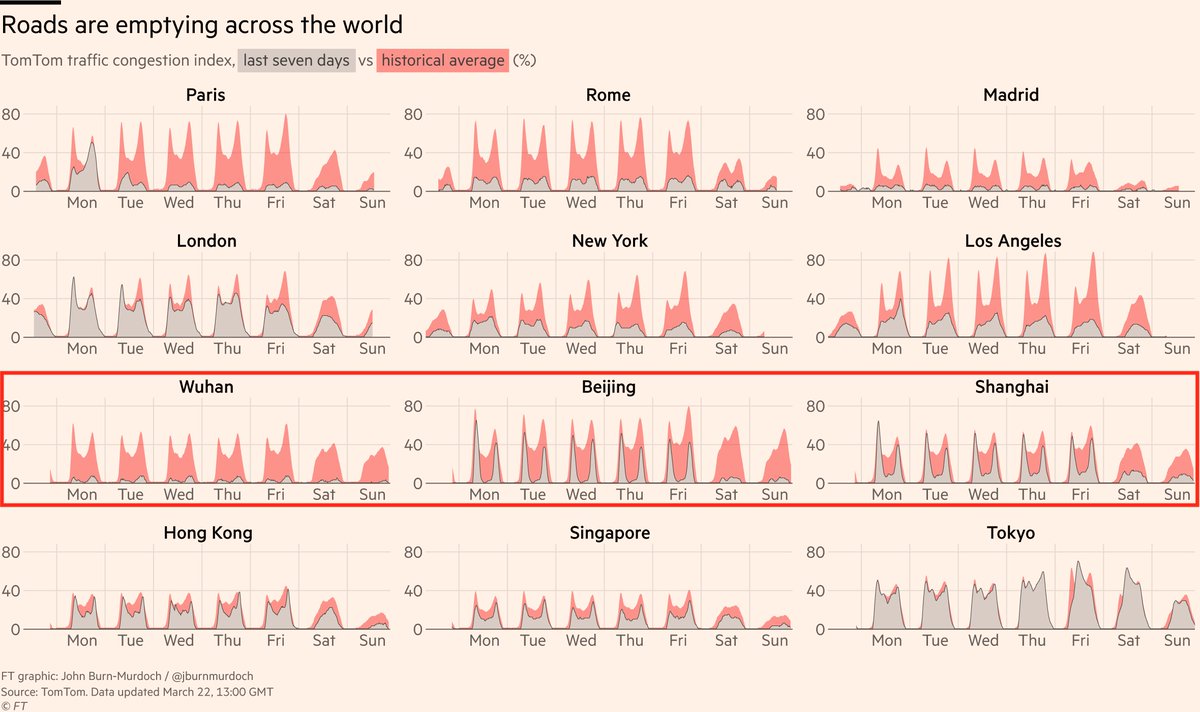 5) In the Asian countries that acted quickly to contain the virus, traffic levels now only slightly below normal, and in the case of Tokyo, life — on the roads at least — truly is back to normal.

The longer countries wait to act, the longer it will take for normality to resume.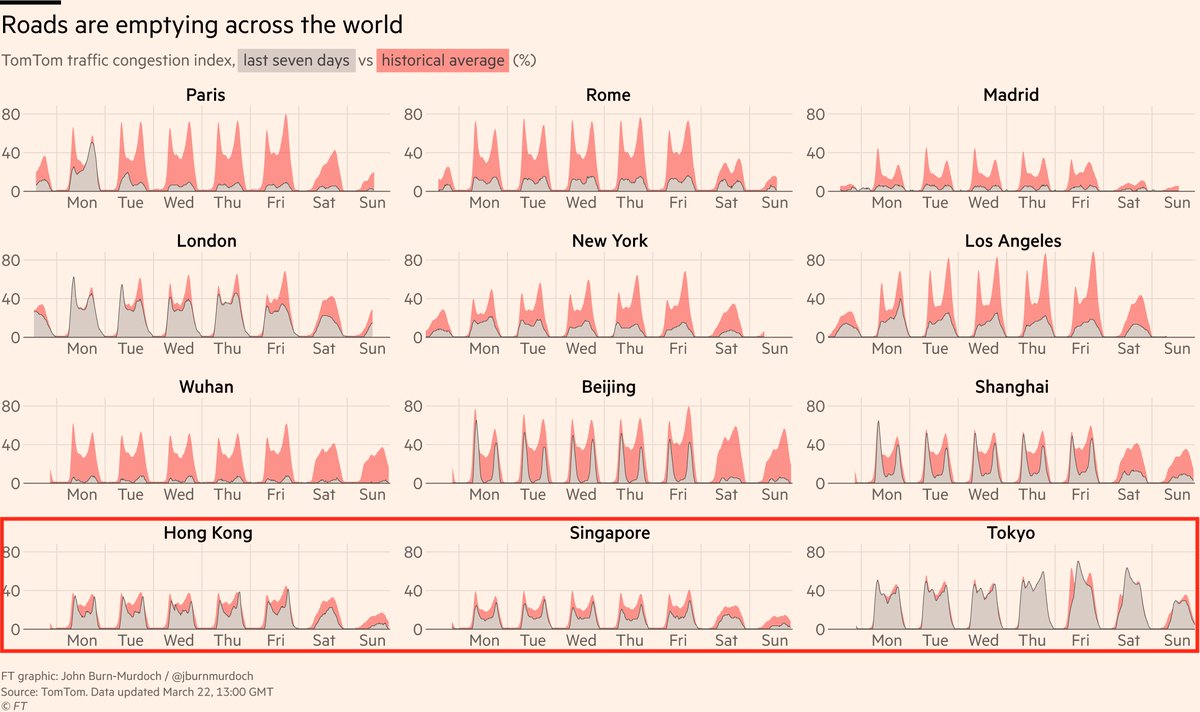 6) We're also tracking energy usage across Europe.

Energy usage in locked-down Italy & France has been down sharply over the past week. Norway & Spain similar.

Germany and UK yet to lock down nationally, and energy use remains normal-ish, just starting to dip in last 24 hours.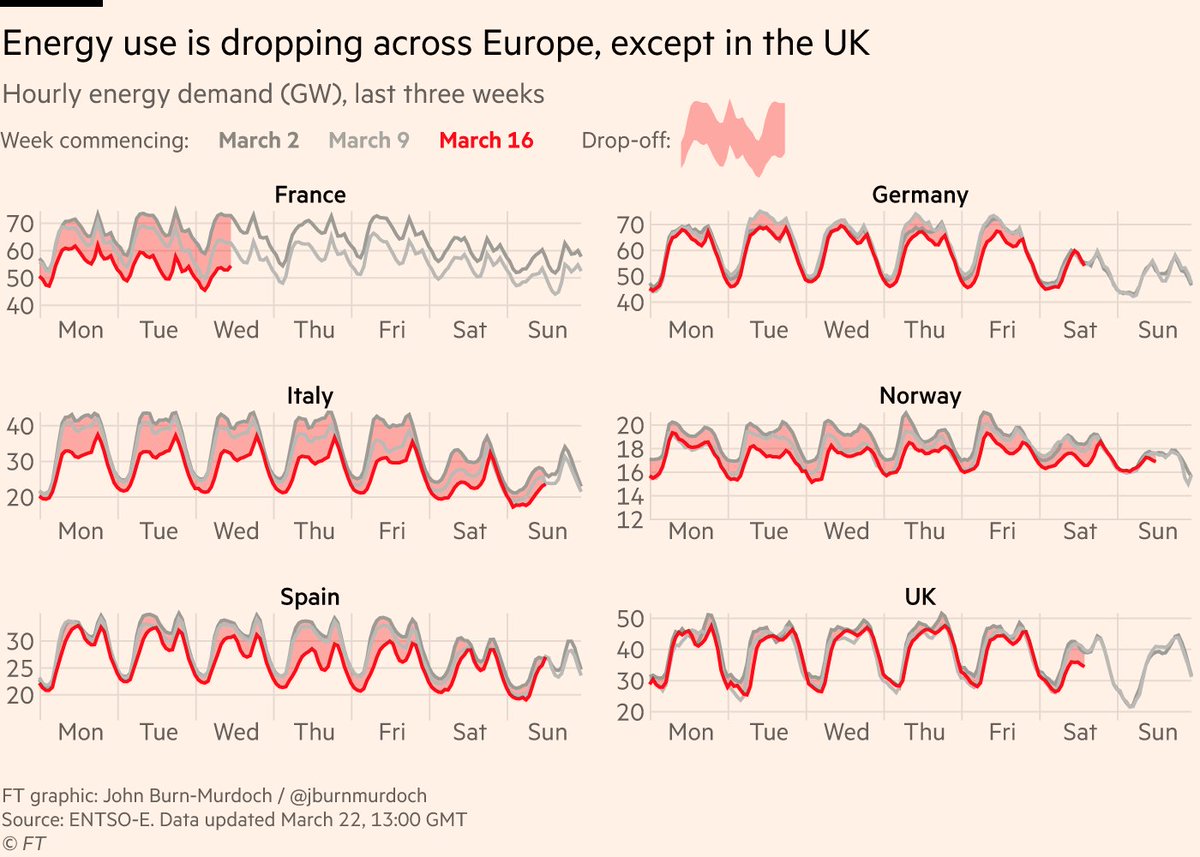 7) Now movie box office data, as first audiences stay away from cinemas, then governments close them.

US box office revenues are down almost 75% year-on-year.

France & Italy have shut movie theatres, and in dozens of other countries box office takings are down by more than 75%.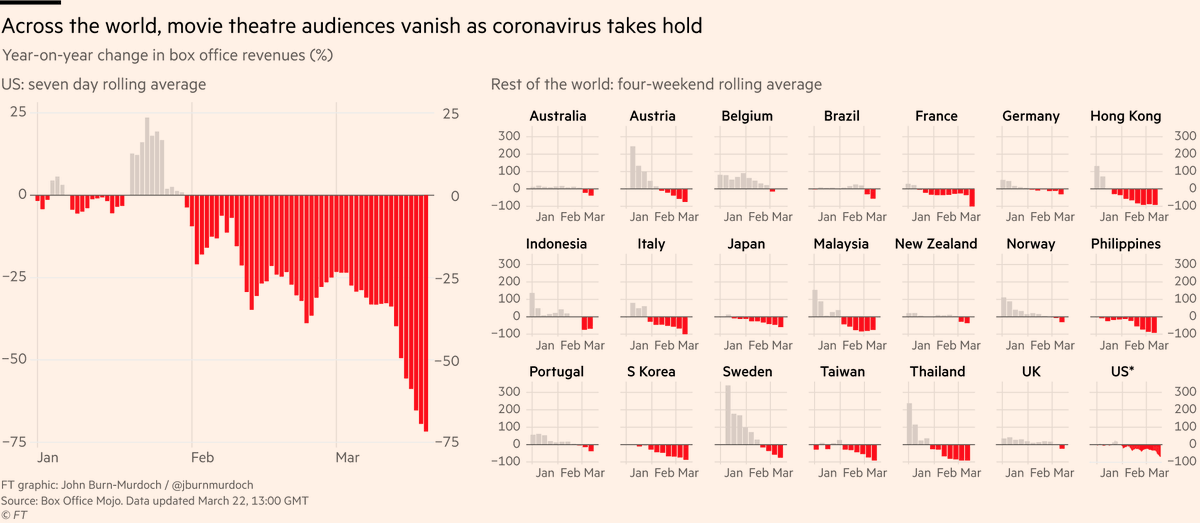 8) Full story here by me and @valentinaromei, including other indicators such as retail footfall, international flights data etc
ft.com/content/d184fa…
We'll also be updating all of these trackers every day on a new page publishing tomorrow.
Create an account for weekly updates and features such as bookmarks & reading history.