COVID UPDATE July 13: There are successful examples of taking on COVID-19.

And there is one story like no others. New York. 1/
New York did not get off to a good start. In fact, it was the example of what not to do. California acted 6 days earlier than NY did when they had cases hit.

The mayor clearly didn't take it seriously & Cuomo was slower to act. Mostly @CoreyinNYC was ringing loud alarms. 2/
So some thought it was unfair that Cuomo drew such high praise for his handling of the crisis. He earned it for one reason.

He talked to people. 3/
At the time, he was doing what Angela Merkel, Jacinda Ardern, Katrin Jakobsdottir & others around the world were:

-This situation is going to be difficult
-I know it will be hard for you
-Here's what we need to do and why
-We will pull through this

4/
Something else. He didn't lie. He didn't sell. He didn't pat himself on the back. Or avoid responsibility. We had that already.

He told the hard truths. He showed data. He asked for help. He demonstrated some empathy & some effort. And the country needed that. 5/
I have had my issues with Cuomo & don't like the way he runs NY's Medicaid program. But I respected what he was doing.

I have never mentioned this but I saw the data Cuomo was first presented with that he later shared. And I saw the model Trump was presented with. 6/
For all his flaws, when Trump was hiding under his desk, pointing fingers, searching for credit, ignoring scientists, Cuomo was fully present. 7/
This isn't about Cuomo as much as it is about New Yorkers. But I have to make one more comment. There's a right wing meme about how Cuomo killed people in nursing homes. 8/
The nursing home meme was generally spread by people whose principal skill is retweeting unread click bait. I ran the agency the Agency that oversaw nursing home safety & have been talking about this on TV, in writing & with governors. You can watch. 9/
youtu.be/FPQwAiI0-io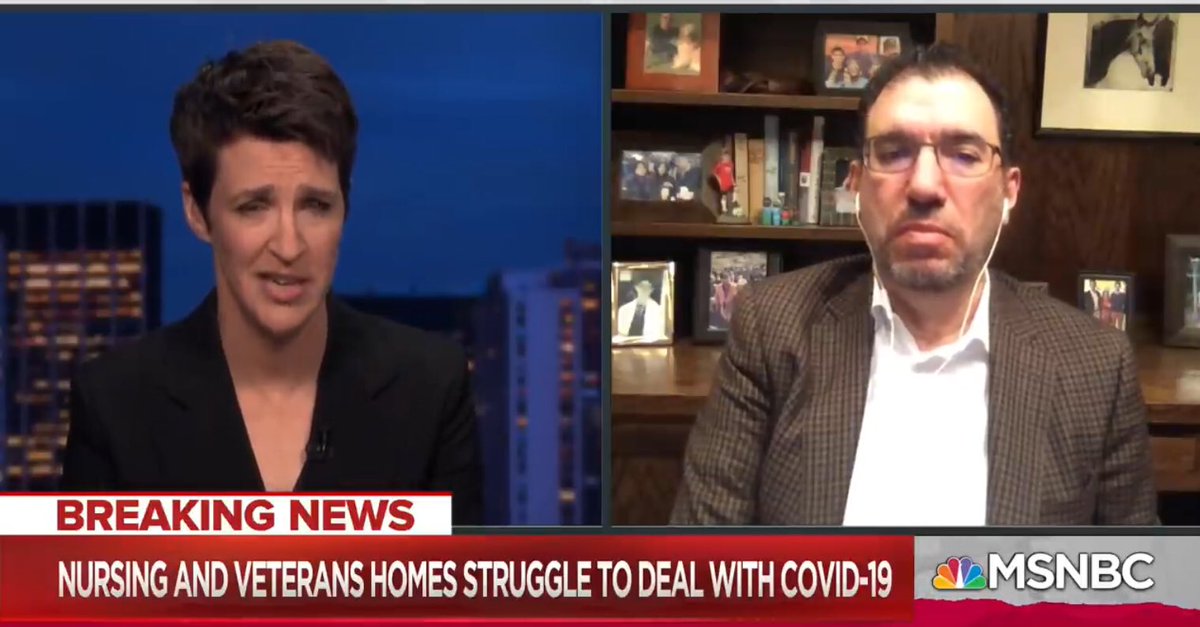 The Trump Administration began in 2017 announcing they would not enforce the sweeping nursing home rules the Obama Admin put in place. Too many regulations. And it got worse from there. Many people have their hands on this mess.10/
Trump Admin, out of state operators, state inspectors. Yes to all. And sadly while this meme was great as a way to shift the state to blue states, today 40% of Texas cases are coming from nursing homes. Turns out it's difficult to keep spread out.
11/
It turns out that the nursing home deaths were caused by the same reason as in every other state. Staff bringing it in, untested, from the community. 1 in 4 staff got infected. And they lacked sufficient PPE.

Same thing is now happening in the Sun Belt. 12/
But this isn't a defense of Cuomo. The fact is NY became the world's epicenter of COVID-19 for reasons we are still understanding: a new strain, dense conditions, late reaction, nursing home controls.

But what happened next was remarkable. 13/
The only thing as steep as NY's rising curve was NY's falling curve. It was spectacular & historic.

And that is a credit to New Yorkers. To discipline. To community. To respect for the medical workers. 14/
We have seen the death by infection & by suicide of so many many New York health care workers, one of whom saw 40 ICU visitors in a row die.
For all of them, yesterday was for them....
👩🏻‍⚕️👩🏻‍⚕️👩🏽‍⚕️👩🏾‍⚕️👩🏿‍⚕️🧑🏻‍⚕️🧑🏼‍⚕️🧑🏽‍⚕️🧑🏾‍⚕️🧑🏿‍⚕️👨🏼‍⚕️👨🏻‍⚕️👨🏽‍⚕️👨🏾‍⚕️👨🏿‍⚕️👩🏻‍🔬👩🏼‍🔬👩🏽‍🔬👩🏾‍🔬👩🏿‍🔬
twitter.com/aslavitt/statu…
People died for 120 straight days in NY. It is 64 days after peak.

508 cases/million at peak. Overall 20,600 cases/million.

32,075 people gone, 22,795 in NYC alone.

Yesterday, in every ICU, nursing home, ER & hospital bed, it was quiet. Not a single reported death. 16/
It's no longer just foreign countries who have shown this can be done. New Yorkers, who many rallied for, flew to NY, and jumped in to help, showed us THIS IS POSSIBLE. WE CAN DO THIS. 17/
New York now takes the virus as seriously as the rest of the world & they know how to contain this. Their vigilance is just beginning. And sustaining it will be hard.

But the backside of that curve brings tears to my eyes. The nurses. The doctors. The paramedics. 18/
Them way to honor them? Let them be our teachers. Sit there in Phoenix & Houston & Charlotte & Miami and don't doubt them when they tell you not to mess around with this very scary virus. 19/
Sadly, some are deciding they must learn for themselves. AZ has now passed NY in peak cases/mm with 528, eclipsing NY's 508. FL is now at 436.

Both governors openly flaunted their lack of preparation & lack of seriousness.

They disrespected the sacrifice of their countrymen.20/
The way they can make it up is with a rapid steep decline. 5ey should follow Greg Abbott in TX. He also got it late & didn't learn the lesson of NY. But once he saw it, he acted w seriousness.

All these states can achieve the same sharp drop as NY if they get serious.21/
And for other states, the movement to begin closing bars today, to consider starting school online, to close churches, to roll things back is the beginning of the political courage they need to show. 22/
I have talked to governors & mayors across the country. Follow Abbott. Don't learn the lesson a third time. We CAN do it.

"Yes we can" someone I know said. 23/
The Senate must also honor what they've seen. Bar & restaurant owners should be protected. Unemployment ins. Prevent evictions. Help Americans get through this.

Hire the contact tracers, get us the testing. Understand without a president, you need to work with the governors. 24/
I spoke to Bernie Sanders about this today. He was worked with Mark Warner & Doug Jones (the full expanse of the Democratic caucus) on a Bill to protect Americans' paychecks.

Your move Mitch McConnell. Now that this is in red states apparently he's taking another look. 25/
Our country's leading pandemic epidemiologist and I spoke for a while today. He gave a Ted talk in 2006 on this pandemic. He has advised presidents of both parties. I have been talking to him fairly continuously for the last 4 months. 26/
He believes bearing this virus is possible. He hasn't seen anything thrown at us by this virus, as nasty as it is, that we can't defeat.

He got evidence today. Thank you to our heroes in New York & in memory of all who we lost. /end
Create an account for weekly updates and features such as bookmarks & reading history.